North America's premier bamboo plywood and flooring brand.
Developed more than two decades ago on cornerstones of environmental health and sustainability, Plyboo's award-winning architectural-grade bamboo products are found in modern commercial and residential interiors from coast to coast and beyond.
News

See Smith and Fong Plyboo & Stack Panel at the DesignBUILD 2017 show. DesignBUILD brings together leaders in the world of architecture, building, construction and design. Taking a holistic Read More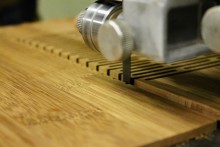 Recently we donated a large amount of Plyboo bamboo plywood and partnered with Oregon State University's Renewable Materials and University of Oregon's Product Design schools for a program Read More
Videos About Our Products
Learn more about our bamboo flooring and plywood with these helpful videos, which include detailed explanations and even a few suggestions and tips.